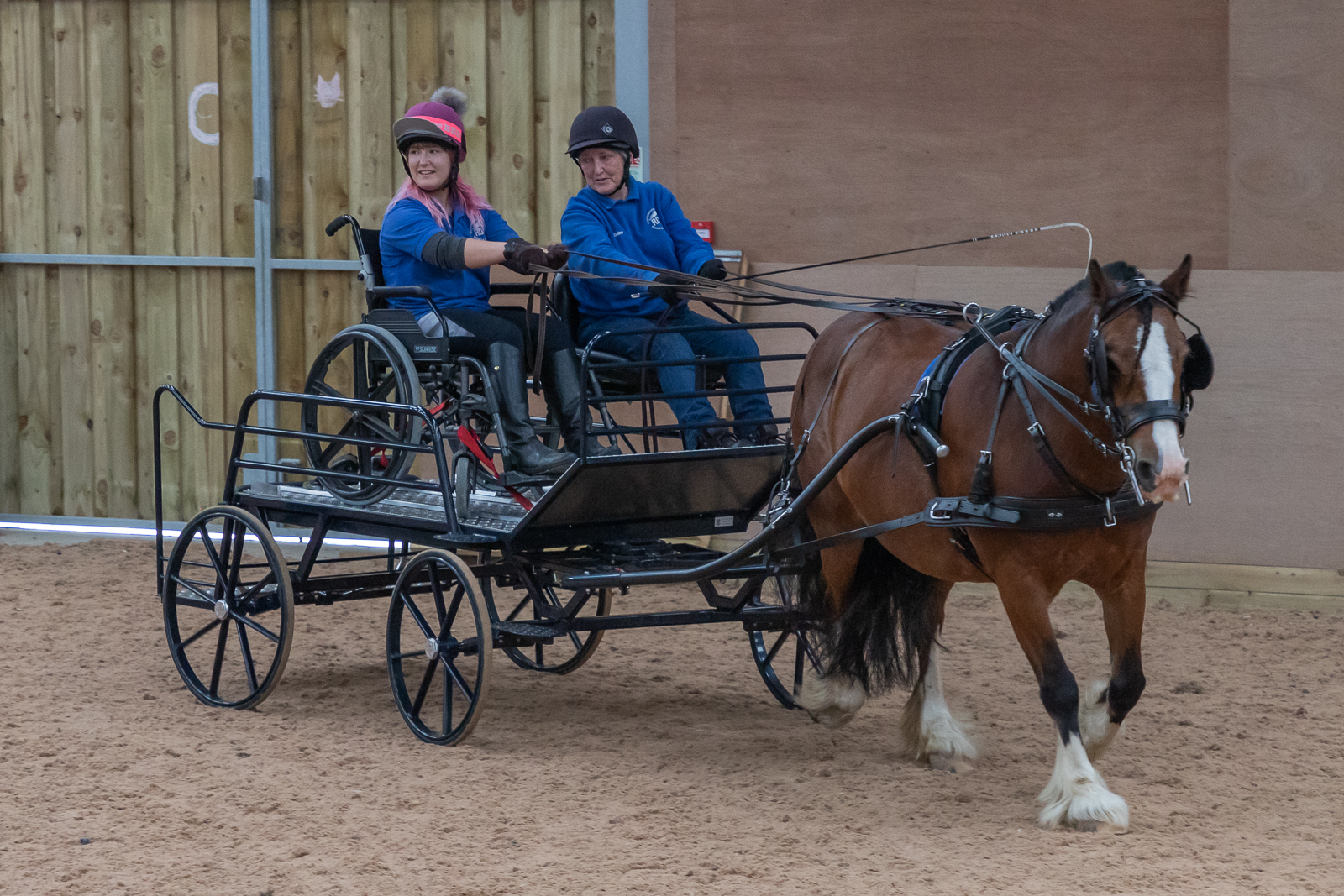 Carriage driving
Carriage driving inspires people who are unable to ride a horse but are able to either climb on to a carriage or to be pushed up a ramp onto the carriage in their wheelchair (safety straps secure the wheelchair) and they can then drive out into the countryside enjoying a one to one experience with a pony or horse with the feeling of freedom that this brings.

The sense of achievement the participants feel when they ask a pony or horse to walk on or trot on is tremendous. The ponies are all trained to obey voice command and the rewards that the clients experiences, as they feel they have control, is very liberating.
Clients can sometimes arrive with us not feeling at their best but when they realise they are carriage driving positive changes are noticeable and they cannot wait to get on board and set off on one of our four wheeled carriages.

How much does it cost?
For our sessions, we suggest a minimum donation of £12 per session/per person for both riding and carriage driving. However, if you would like to make a larger donation then this is always welcomed.

Participants aged up to 25 may be eligible for RDA sessions funded by Activities Unlimited. Parents, carers and young people can also apply for a Special Educational Needs and Disability (SEND) Personal Budget, which can be used to fund activities that contribute to an Education, Health and Care Plan (EHCP). If you have any questions about Personal Budgets please email localoffer@suffolk.gov.uk. We are able to accept payments using prepaid cards provided to you by Suffolk County Council.

Want to come along or know more?
Our driving sessions are run from spring to autumn and start at 10am. If you are interested in joining us and would like more information then please call 01473 737087 or email us atenquiries@rdawoodbridge.org.uk


Update: April 22

Due to a high number of applicants, our waiting list for new carriage driving participants is currently closed. We will keep this under regular review and re-open applications as soon as it is appropriate to do so. In the meantime you may wish to check with other RDA groups in the local area: https://www.rda.org.uk/rda-groups/